Defying every conventional business aspect, Warsaw worked with only single buyer (until January '17) – Tom Tailor (Germany) – since its inception in 1989 and touched Rs. 80 crore turnover in 2016. However, the manufacturer has now shifted its 80% production capacity to 4 new European buyers including big names such as Marc O'Polo, Camp David and Kappa.
Specifying the reasons that motivated Warsaw to go for this major shift, Raja M Shanmugham, Chairman of the company, comments, "We have grown with Tom Tailor as we have been working with this German brand for more than two decades. But a change of ownership at Tom Tailor made us go for decrease in business with them and opt for the new buyers."
Raja envisions the situation of working with five buyers at the same time as challenging. He and his team are, however, geared up to prove themselves in this new scenario as the apparel exporter has improved its overall manufacturing set-up by adopting lean and fabric saving tools to make itself even more competitive. "We compulsorily have to adopt new practices such as lean system, six sigma, and innovations in IE department to stay competitive," explains Raja.
Addressing the nation on the 68th Independence Day, Prime Minister Narendra Modi sent a strong message from the Red Fort to make the Indian manufacturing sector a 'Zero Defect' and 'Zero Effect' industry. Under the leadership of Raja M Shanmugham, Chairman Warsaw International – a 28-year-old garment export house in Tirupur – has geared itself to implement the initiatives taken by Prime Minister Modi. "In my perception, we are in a unique position to undertake this exercise of making Warsaw as well as Tirupur cluster a 'Zero-Defect' apparel manufacturing hub, albeit with support from all the stakeholders," says Raja.
Though Warsaw has already been following a systematic lean manufacturing in its factory area for almost two years now, the company is revising the implementation of lean principles with changing global trends. 5S, 3M and Kaizen concepts are intensively being followed in order to minimize wastage on the shopfloor. A few years back, Warsaw was facing serious trouble to manage production and shopfloor. After taking orders from the buyers, the company did not focus on systematic and smooth workflow and the mid-management was not aware of identifying the pinpointed location for the resources needed for production and further processes. As a result, wastages increased, garments started missing from lots, interruption in finishing process occurred, quality defects in garment rose, and most importantly, the balance of the entire supply chain tumbled badly.
"There were lot of mix ups in the production area… We did not give that much weightage to the logistics segment and without strengthening the logistics management, we would not have improved. So we thought of opting lean manufacturing process," shares Raja.
Implementation of lean tools has impacted the company on a positive note. Before starting the production of any order, the mid-management of Warsaw ensures everything required for that particular order is in place systematically: the visualization of the key points are displayed on the shopfloor; the identification of raw material, trims and accessories are carried out as per the running order need; and the workers are trained on how to follow the regulations in order to achieve the planned output.
"When external pressure on price front arises, we look inversely to correct our mistakes… Without addressing the factors which contribute massively in wastage production, we cannot sustain. So we executed lean properly that helps us a lot in productivity and quality improvement now," specifies Raja.
Technology
According to Raja, buyers nowadays dictate that the fabric consumption must be as per their standards only. The buyers first define the outer limit of the fabric consumption and then negotiate with the manufacturers. The same situation rose for Warsaw also and to grapple with the situation, the company invested in the Lectra cutting solution and AutoCAD software. To optimize fabric cutting and reduce wastages as much as possible, Warsaw's pattern development team creates programs of patterns, makes cut plan using AutoCAD and then cutting takes place through Lectra solution. With this AutoCAD and Lectra combination, Warsaw is reducing 7-8% fabric wastages.
"Using CAD and efficient cutting solution is a necessity nowadays as buyers would not be paying for the wastages you have done on your own shopfloor," explains Raja, adding, "AutoCAD gives us permutation and combination of hundreds of varieties and this way, we maximize the precision of panel placement that automatically helps in minimizing the wastages."
Moreover, Raja believes that to keep the head above tide, one should know how to swim in an unevenly soaring water level. He connects the same principle with the ascending use of automation to fight with the cost factor. Warsaw is using deskilling method to balance between man and machine and claims that this adoption is assisting the company in becoming cost-effective. The technical management team of Warsaw is utilizing only those operators who are aware of the basic principle of sewing operation. These operators are further deployed to run the advanced sewing machines. "The machines in our unit are designed to automate certain processes of stitching through their auto-modes… We just need to set the placket length, for example, and this is the only thing the machine operator would do as rest of the processes would be taken care of by the machine itself," underlines Raja.
Adding on, Raja says that this kind of deskilling methods help in cost cutting as the company hires semi-skilled workforce with lesser salary than skilled workforce for the purpose. The investment in the automation is, however, a crucial but necessary step as there is no constant product in today's garment industry. The year is divided into 12 seasons in Europe and it's getting enlarged to 16 seasons. One season runs a maximum of 3 weeks now and this scenario demands to keep changing products every month. "Humans alone cannot contribute effectively as well as efficiently. Thus, automation is highly recommended and the only aspect that is taking place alongside automation is deskilling," suggests Raja.
Having faced lots of challenges in the ongoing year due to shift in clientele, Warsaw is planning to stop nowhere in near future. For Raja M Shanmugham, who is also the President of Tirupur Exporters' Association (TEA), the target of Rs. 1,00,000 crore turnover till the year 2020 from the current Rs. 40,000 crore is a big yet exciting challenge for him.
Production practices
Amidst changing product categories and lots of challenges day in and day out, Warsaw has adopted a policy to enlighten the entire operating chain in the unit. Every line starts with a meeting which includes everyone related to that particular project right from production manager to final checker. This meeting injects the basic idea into the production, finishing and dispatch teams about the type of garments and its technical requirement.
All the critical points that might arise in between the processes are examined during the meeting. The production manager asks for suggestions from the team members in order to prepare them in case of any possible bottlenecks in advance. "All the members associated with a particular project openly discuss about the critical zones which need to be addressed very efficiently and diligently. Production manager instructs the workers to handle garments through their intelligent approach and without wasting even a single garment, they have to boost the productivity," marks Raja.
Ergonomics is one such area that Warsaw is focusing on intensively to take care of the workers' fatigue level. Tables are kept between sewing machines and the use of bins are thoroughly eliminated. Now the machine operator keeps all the garments on the tables so that he/she need not bend to pick up the piece from the bin. "Worker's health is of utmost priority for us and with this exercise, we try to bring down the level of tiredness of the machine operators," says Raja.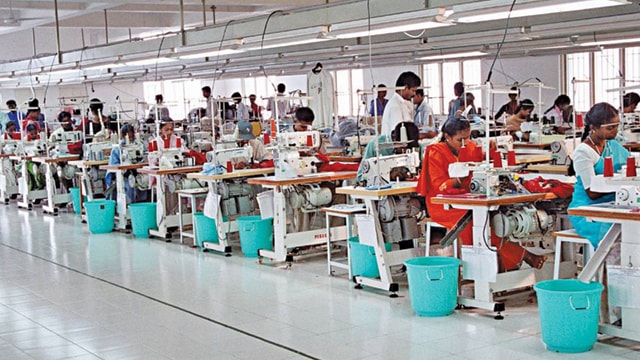 In a major development, Warsaw says that rather than putting hands in 'Needle Focus Light system' of latest sewing machines, the management is using LED lights in the entire shopfloor and ensures that there is uniform ambient lux level throughout the area. The logic behind this practice is actually tested and proven, according to the company. "We have tried the needle focus light previously but when operators focused on the pointed notion, it created lot of stress on their eyes which resulted in negative impact on their health. So use of LED lights was a must do task for us," explains Raja.
"To fetch more orders from international market, consistency in product quality is the key which enhances the manufacturer's image on overseas platforms."

"We monitor the production on hourly basis. So, in case any problem arises, we can address it on time."

"European market is the major market for us but now we are growing, and to achieve 'Mission 2020', we will explore the American market too." – Raja M Shanmugham, Chairman, Warsaw International.
CSR activities
Every manufacturer always puts efforts to sustain its workforce for a longer period of time. Warsaw is not an exception as it is aptly following 'older the manpower is, better the work culture and productivity will be' principle.
To keep the attrition rate as low as it can be, the company has policies which directly satisfy the social, mental and financial needs of the workers. The management pays Rs. 10 per week per employee to keep them motivated. In case of disease, the worker can take medical support of up to Rs. 10,000 from the company's ailment fund. Additionally, Warsaw provides Rs. 500 for last rituals and cremation process if the family member of any worker passes away. And last but not the least, employees can take a benefit of Rs. 7,500 for their marriage. "We know that all these are the basic necessities of a human being that will surely be required by them during their lifetime. So we try to help them as much as we can as this amount taken by the workers is non refundable to the company," concludes Raja.
Company Brief
• Lean is being followed by Warsaw to improve the internal structure whereas, to tap the overseas market more aggressively, the company is equally capitalizing on the latest technology.
• Warsaw is semi-vertically integrated as except fabric processing, all the processes are carried in-house.
• Warsaw has 2 state-of-the-art production units in Tirupur which produce around 2.5 lakh pieces per month.
• Warsaw mainly deals in menswear production such as T-shirts and pullovers.
• The company is equipped with 750 UBT machines and most of them are of Juki and Siruba.
• In-house knitting facility has 36 circular knitting machines of German brand Orizio which helps shorten the lead time.
• Tailor-made ERP software is being used by Warsaw which is designed and manufactured by the Global Services.
• Cutting division has Lectra cutting machine.
• Warsaw also uses AutoCAD software to make cut plan.