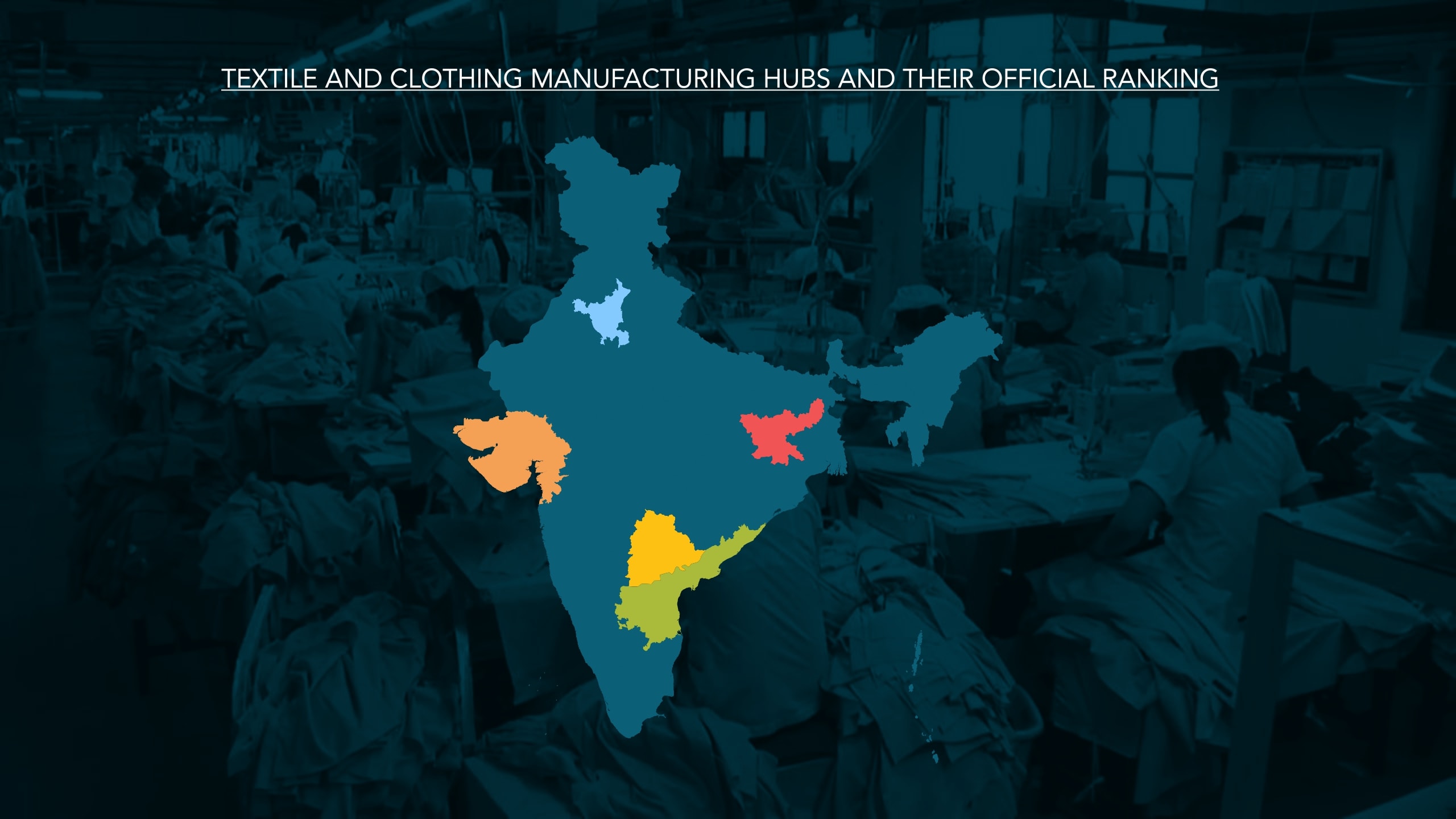 The states of Andhra Pradesh, Telangana, and Haryana are on the top in the ranking of ease of doing business. The list has been released by Department of Industrial Policy and Promotion (DIPP), Ministry of Commerce and Industry (MoCI). DIPP, MoCI in collaboration with the World Bank, conducted an annual reform exercise for all States and UTs under the Business Reform Action Plan (BRAP). These states are also strong hubs for textile and apparel manufacturing. Industry reforms to ease regulations and systems in areas such as labour regulation, environmental clearances, single window system, construction permits, contract enforcement, registering property, and inspections were focussed in this ranking. Another fastest growing apparel manufacturing hub Jharkhand is on no. 4 while Gujarat is on 5th rank.
It is for the first time that DIPP has introduced the provision of taking feedback before ranking, to ensure that the reforms have actually reached ground level. The feedback was collected through face-to-face interviews of actual users selected from more than 50,000 users of the services provided by the State and UT governments. 78 reforms out of 372 were identified for the survey. More than 5,000 private sector users in 23 States and UTs, including 4,300 businesses and 800 architects, from across the country shared their experience.
Following are the top 5 textile and clothing manufacturing Indian states, as per ease of doing business ranking:
1. Andhra Pradesh: Ranked twice on the top in this list in the last three years, Andhra Pradesh, has one of the best-planned hubs of this industry in Visakhapatnam (Vizag), which is fetching investments from Arvind Ltd., Gokaldas Exports and a few other companies as 12 new apparel units have plans to invest nearly Rs. 963 crores in this region.
2. Telangana: Telangana is a strongly emerging comparative hub for textile and apparel manufacturing as Future Group is looking at the opportunity of an RMG facility in the state, Ginni Filaments, Welspun Group, Gokaldas Images, Nandan Denim (Chirpal Group), Shahi Exports and some spinning mills already have signed MOUs to invest here. The state is also witnessing increasing retail developments in recent 2 years as Amazon opens India's biggest fulfilment centre in Telangana, Walmart inks deal to open 10 stores, IKEA is opening its first India store in state's capital Hyderabad.
3. Haryana: Haryana is home to well-known and established hubs like Gurgaon, Faridabad, and Panipat but there is no promising future investments and scope for expansion in the state, especially due to higher minimum wage.
4. Jharkhand: Ranked fourth, Jharkhand has a similar story to Telangana as nearly 40 companies including Orient Craft, Pearl Global, and Arvind Ltd etc. are investing nearly Rs. 2500 cr in the region. It is worth to mention that Telangana and Jharkhand are the only two states that scored 100 per cent on reform evidence.
5. Gujarat: Touted as the textile capital of India, Gujarat is ranked fifth. Hubs like Surat, Ahmedabad, and Vapi are also witnessing expansion, majorly into the textile segment. Offering many incentives to textile industry, Gujarat however is not happy with this ranking.
Apart from ranking parameters, some of the subsidies these states offer include focus on skill development, single window system, land at throw-away price, electricity at subsidised price, and interest subsidy etc. One of the key reform areas -land availability and allotment, showed that Haryana, Uttarakhand, Rajasthan, Uttar Pradesh, and Bihar are the top 5 states in this reform implementation. While with regard to labour regulation, enablers Haryana and Punjab are on the top in reform implementation.
Three major textile and apparel hubs Karnataka, West Bengal, and Tamil Nadu have appeared as fast movers as they improved their ranking compared to last year. Karnataka is upward from 13 to 8, West Bengal moved from 15 to 10 while Tamil Nadu who was at 18, is now at 15. Other states with promising established or emerging textile or apparel industry like Rajasthan (9), Uttar Pradesh (12), Maharashtra (13), Odisha (14) got these ranks. All of these states scored more than 90 per cent. Some apparel manufacturers from Punjab, which is on 20th rank, have the plans to invest in Bihar but in this ranking, Bihar stood at 18th position. Struggling on infrastructure front Punjab, which has hubs like Ludhiana and Jalandhar, could score only 53.92 per cent.
Garment manufacturers in Punjab are really disappointed with the conditions and don't see further hope in the state. Ajit Lakra, MD, Superfine Knitters Ltd., Ludhiana who is also President of Ludhiana Knitters Association says, "State Government in Punjab is heavily lacking funds for decades now which is taking a toll on infrastructure conditions as well as industry in the state. So, we are not surprised that our state is on 20th rank while Telangana is on top." He further adds that apparel industry today requires automation, system, digitisation, and skill development but as Government is not supporting the industry specially SMEs are forced to struggle.
Delhi which has already lost manufacturing, though many of the head offices of good export houses are still stationed in the city, is the biggest trading hub for the domestic market and is ranked at number 23 with the score of 31.60 per cent while in 2016 it was on 21st position and in 2015 it was on 19th rank