With no formal training in jewellery design and a head full of creative ideas, PRERTO's Founder Prerna Agarwal took a leap of faith when she transitioned from a background in Economics to the world of design – a gamble that paid off both professionally as well as personally.
With the support of her family and mentor, Prerna started PRERTO without any formal training right after graduating from university. She credits most of her skills to have been acquired on the job, and to her non-defeatist attitude towards life.
Known for blending modern world charm with cultural heritage to create one-of-a-kind avant-garde pieces, PRERTO has quickly grown up to be one of the most popular fashion jewellery brands amongst millennials, Gen Z and the likes.
Apparel Resources gets candid with the exceptionally talented powerhouse of creative inspiration – Prerna Agarwal, to understand the creativity that goes behind her jewellery design brand, the market for the field today, the skills required to exceed in today's cut-throat environment and the lessons she learnt from her successful career trajectory.
Having studied Computer Science, Economics and Fashion, did you always want to get into this area of design (jewellery)? Or was it a shift you experienced during your college years?
Prerna: I had the privilege of getting into a great university that is very well known for Computer Science – the course I intended to do at that time. During my course there, I realised there is a fine difference between enjoying what you are good at and doing what you are good at. Computer Science was something I was good at, but I never felt so passionately about it like my other classmates did. Fast forward to a change in my major mid-way to Economics, a trip to Milan and meeting people who worked in the fashion industry, I discovered a new-found love for fashion which led me to apply for a Masters in Fashion & Luxury Brand Management.
After successfully completing my masters, things fell into place, and while I wanted to begin with a marketplace, I decided to first explore the territory of my own brand. One step led to another, and here we are today, with PRERTO and a career and business that I couldn't have ever imagined.
What kind of skills can aspiring and upcoming designers hone to excel in the field of jewellery design in today's competitive landscape?
Prerna: The jewellery design landscape has most definitely evolved over the last 5 years. What I look for in a jewellery designer when we hire is the drive, a thorough understanding of the target audience, a clear understanding of their personal style and adaptability.
You can be an extremely talented designer, but for me, each piece that one designs, must stir an emotion when created, especially for the designer. Additionally, one must thoroughly understand their target audience and this is something I have learnt over the years.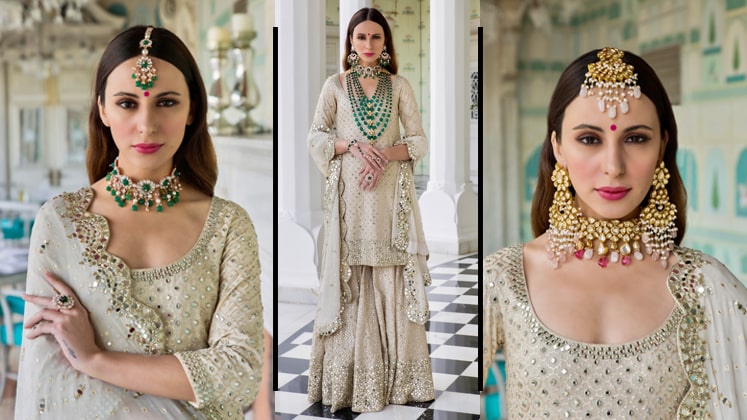 "One must be aware of what their target audience would like and what they wouldn't. Where they are happy experimenting, and where they are not. What you and I may love, may not be as appreciated by your clients, and vice versa."
The next thing is a clear understanding of what your style is and where your strength lies. You have to be loyal to what you are good at, and at the same time, be open enough to explore new styles and amalgamate them with your own. As a business owner and/or a fashion designer, you have to always set aside your personal preferences for what is suitable for your brand, yet being true to who you are, in turn, creating a perfect balance.
Also Read: Shweta Kapur of 431-88 on how to own your niche in the fashion industry
What all crafts/techniques do you mostly work with? How do you translate them over your pieces?
Prerna: We, at PRERTO, are constantly searching for new materials and techniques for us to incorporate in our designs. We are blessed to be in a country with such a rich culture and so many techniques to be inspired from. So, most of our collections and techniques that we work with are all inspired by our country.
While we know what our clients do like, for example, Swarovski elements and pearls, we are also constantly pushing ourselves to dig deeper and find new techniques and materials in an attempt to blend the old with the new in order to create something unique.
The aim at PRERTO is to create a unique yet wearable piece that is a blend of both the modern world and our cultural heritage. However, typically the product is designed keeping a particular theme and style of craftsmanship in mind. Post that, we go into the CAD and casting phase, following which products are created and further worked upon. As a team, we are obsessed with mixed media and details – something that is evident in most of our pieces.
Which are some of the artisanal clusters you work with in India? What are their specialities and traditional skill sets?
Prerna: All our artisans are based out of Mumbai. However, they have been artisans for decades with the skills being passed on to them from their parents and grandparents. They come from various parts of India including UP, Bihar and West Bengal. Our Bengali craftsmen are very talented with soldering and metal work, while the craftsmen from UP and Bihar are the finest with their thread work and detailing.
PRERTO emits an edgy, contemporary vibe that is fashion forward. A decade ago, such designs were deemed to be risky. What led you to follow your hunch and introduce such an aesthetic to the online Indian consumer?
Prerna: I think it is very important to know who you are and what you are good at, and what your style is, and then make modifications based on the current time and place you are in. While PRERTO has always been fashion forward, edgy and experimental, we have always held tightly on to our roots and culture. Each of our pieces is like a reinvention of a classical piece with a modern twist. And yet, we have attempted to ensure majority of our pieces remain timeless.
When I started PRERTO, it was an expression of my individualism, because I do believe our outfits and fashion choices speak more about us and our personality. My instinct was to be true to who I am. At that time, the world was already growing smaller, the e-commerce industry was picking up and Instagram had already been launched. I was confident that the Indian consumer would most definitely appreciate a contemporary twist to their traditional favourites.
Also Read: How Nachiket Barve became a top Indian fashion designer
The industry is constantly evolving and one sees trends change in the blink of an eye. How can a brand stand out in such a scenario and how does PRERTO rise to the competition?
Prerna: Trends will constantly change and it depends on whether you really want to ride the trend wave or not. I personally believe it is important to be up to date with the trends and be aware of them, so you can subconsciously implement them in your designs. However, it is more important to own who you are and your style, to deliver pieces that are a reflection of that. You can only really rise to the competition and stand out if you are completely comfortable owning who you are. And for us at PRERTO, we value pieces that can be timeless and not too trend-based.
It takes a set amount of capital to start your own business, but not everybody is blessed with the economic conditions to make that happen. What would your advice be to such aspiring individuals? How can they navigate through this?
Prerna: I completely agree that a certain amount of capital is required to begin a business, and many entrepreneurs face economic limitations. However, we are not limited in our thoughts, ambitions and our abilities. My advice would be – start small, but start.
There are several extremely talented people I know, who are currently working with someone, and saving funds/paying their bills, and in their off-duty hours, working on their passion projects.
It comes down to your interest level and how determined you are to succeed. If you want to start a website, there are several platforms like buildabazaar (this is something that I used when I started out because I did not want to invest heavily at the time) who charge a nominal fee for a basic website template and also help you set it up and host it for you as well.
There are several pay-as-you-go courier companies including ShipRocket and the introduction of payment gateways have made set ups much simpler. My advice would be – do not compromise on your branding, your brand image and your product. We are so blessed to be in the 21st century where you can find almost everything online. When we started off, I did not know how to even open a blank page on Photoshop, and now I would like to say, I get by comfortably. I have spent hours googling and researching various things, and trying and testing unpaid methods to see what works for me. Where there is a will, and a strong burning determination, there will most definitely be a way.
"Do not compromise on your branding, your brand image and your product. We are so blessed to be in the 21st century where you can find almost everything online. When we started off, I did not know how to even open a blank page on Photoshop, and now I would like to say, I get by comfortably." 
What are some of the challenges you faced while setting up PRERTO and how did you overcome them?
Prerna: This could make up an extremely, extremely long list and I have truly faced challenges in all departments. Also, I started with a very small budget and was a one-woman army for the initial phase of my business, so I have learnt everything through experience.
I have been extremely fortunate to have the unwavering support of my loved ones and their guidance which reaffirmed every decision I took and guided me when I felt like I was sinking. Some of the challenges included how to set up a company, how to do all the paper work right, and how to open your own company bank account. I was 23 at that time, and a real newbie. I struggled with production and making sure my own standards were repeatedly met. I struggled with even raw materials, right from sourcing to getting the best price. I struggled to get my website ideas and the designs explained to this agency that typically only did minimal templates. However, I have learnt a lot along the way and I have never shied away from asking questions and researching till I got the answers. I think this has most definitely helped me the most. And of course, the resilience to never give up.
What according to you, is more important for a brand today – participation in fashion weeks/exhibitions or social media engagement?
Prerna: According to me, both imply brand visibility and are forms of marketing from the macro perspective. It does come down to what your strength is that would determine which of the two is more important for you. Through social media, you can express yourself in various ways, you have time to build on your ideas and work through your expression. While at exhibitions, you can really connect with the customer and understand what they are looking for, and thereby steer your brand in the right direction.
So what would work for you depends on who you are and what your strength is. However, both are important. For me personally, my strength has always been in developing ideas and seeing them come to life and by nature, I am a more private and reserved person. This is why we have some extremely talented people on our team who are great at interacting with people and networking.
Also Read: Ayushi Goel: Bringing magical spaces to life