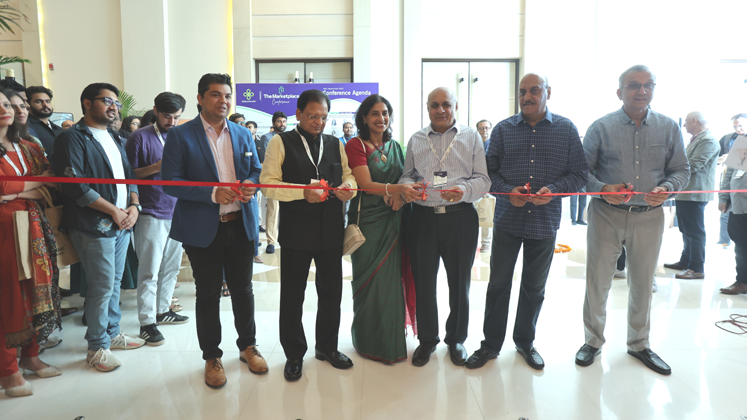 Apparel Resources lived up to its reputation of being the industry's guiding light once again by organising the first-of-its-kind event 'The Marketplace Conference' presented by ReshaMandi on one of the most disruptive trends of today – B2B Marketplaces. Setting the benchmark by successfully organising this exhibition and conference at Le Meridien, Gurgaon, the event witnessed 8+ intriguing and informative sessions that included panel discussions, fireside chats and spotlight sessions; over 800 visitors from pan-India, 10+ exhibitors and 30+ speakers.
Not only this, the conference was highly beneficial for the industry to have full clarity on the working of Marketplaces, how they can address the various pain points of the various stakeholders across the textile value chain. The event marked the presence of leading B2B Marketplaces such as ReshaMandi, Zilingo, uKom, Seamless Source, Silq and Vogzy; as well as renowned and established firms like Intertek, Geo-Chem and metaverse companies such as MetaBharat that got onboard as esteemed partners/exhibitors.
The event was inaugurated by Gautam Nair, Chairman of Export Promotion Committee, AEPC and Managing Director, Matrix Clothing; Sudhir Dhingra, CMD, Orient Craft Limited; HKL Magu, Founder of Jyoti Apparels; and Anil Varma, President, Delhi Exporters Association. In his keynote speech, Mayank Tiwari, Founder & CEO, ReshaMandi talked about how B2B fashion businesses can be linked up to Marketplaces going forward. It was highly appreciated by the audience.
Delegates from across India
One of the most interesting aspects of the event was that there were representatives/delegates from across India and overseas including e-commerce companies (Amazon, Myntra), export houses (Shahi Exports, Indian Designs Exports, Cotton Blossom), retailers (V-Mart, Liverpool, Ross Stores), brands (Clovia, Being Human, Kiabza, adidas, Styched, Madame, FableStreet), SME apparel manufacturers, fabric manufacturers and industry professionals from Delhi-NCR, Ludhiana, Kanpur, Tirupur, Bengaluru, Mumbai,  Chennai and many more cities. And irrespective of their scale and focus on the industry, all of them found the event to be quite fruitful.
"The event provided an opportunity to connect and network with peers from the industry. The discussions offered a holistic picture of emerging trends in the sustainability and digitalization space in the apparel industry. I am sure such events will bring the industry together and identify solutions that are sustainable and pragmatic." commented Anant Ahuja, Head Organisation Development, Shahi Exports.
Jayesh Kothari, President (Sourcing & Merchandising) V- Mart Retail who also visited the event as a delegate and speaker was content with the event. "I found it to be a phenomenal event that has created a lot of awareness about supply chain practices. It has been a great meeting point for all kinds of solution providers. I believe the B2B Marketplaces also help companies build relationships with their suppliers that can lead to improved customer service and a more solid relationship between the company and its suppliers," he said.
Emerging companies also had similar spirit as Altamash Lari, Head of Marketing, Malco Group, Kanpur said, "I wish to thank Apparel Resources for such a wonderful opportunity. Now after this event, I am looking forward to start working with Marketplaces and to explore concepts like metaverse in long run. I met many top brands, sourcing leaders and they assured to explore business opportunities."
Teena, Director, Moonlight Apparels, Gurgaon was also overwhelmed as she averred, "I am amazed to be part of the Marketplace event and it proved to be very fruitful. I am going to launch my brand soon and B2B Marketplaces will help us to avail the supply chain. For new brands, these B2B Marketplaces eradicate the entry barrier. Direct meeting with the Marketplaces and clearing my doubts really helped me."
Insightful sessions kept audience hooked
What's the biggest attraction in a conference? The engrossed and attentive audience. The audience was not only keen to understand the relatively new concept of B2B Marketplaces but they got in touch with speakers and other delegates also to take the discussion forward to explore B2B buying and selling through digital marketplaces. Various insightful sessions kept the audience hooked till the end on the concept of a B2B Marketplace and why it is being called a 'disruptor'.
Vikram Singh, Senior VP, DBS Lifestyle mentioned, "The event was the need of the hour. It was very much necessary to create awareness about how future dealings would take place and I am really glad to witness such an event and  excited to look closely at the space in years to come. Such types of events would accelerate the concept and align the buying and selling systematically."
Vivek Sandhwar, COO, Being Human Clothing found the event being organised at the right time, where the complete ecosystem of the Marketplace is building up and digitisation is playing a major part in its acceleration.
Lokesh Parashar, Director, ADKINDIA LLC and Spokesperson of Federation of Buying Agent Association (FBA) who also moderated a session 'Choosing The Right Marketplace' mentioned that it is high time now that we move from the conventional to a digitised B2B Marketplace ecosystem.
"We should have done it long before D2C industry started to gear up. There are a couple of B2B Marketplaces running up and doing well. But 'NOW' is the time to get into this at a deeper level, there are challenges and in a panel discussion, we observed that it's not simple science but a lot of complex operations are there to be handled, but again challenges mean there are a lot of opportunities for someone to create B2B Marketplace," said Lokesh.
It is also fun when two competitors in the business sit together and have a discussion about the subject they are best into! During a fireside chat, Chathura Sudharshan, Founder at Seamless Source and Yash Kabra, Demand Lead, uKom – which was moderated by Apparel Online India's editor – shared their views in a very intriguing session – 'When Innovation Meets Fast Fashion'.
Anuj George, Head of SaaS, Zilingo also found the event at par with the industry's standards as he said, "The visitors from fashion supply chain and we had a lot of interesting conversations throughout the day. It has been a fantastic experience and we made sure the stakeholders adapt to the idea of the usage of technology and its importance in Marketplaces. The response that we got from this event is fabulous and we are looking forward to being part of the next industry event soon."
With innovative themes for events and though-provoking, value-added conferences, Apparel Resources will continuously and tirelessly work for the growth of industry.
Networking is everything in a B2B Event!
The first edition of The Marketplace Conference '22 will remain a benchmark for the fashion industry majorly because of two reasons:
1) There is nothing better than being at an event full of like-minded people who meet and greet each other and talk business. TMC '22 proved to be a wholesome experience for the fashion industry professionals who networked with each other throughout the day to understand all about digital B2B fashion trade.
2) Not all events/conferences offer the industry people opportunities to meet their business idols but TMC '22 was exceptional. It provided the visitors an opportunity to be in the same room as their idols and to listen about how they approached business.
Glimpses of The Marketplace Conference '22