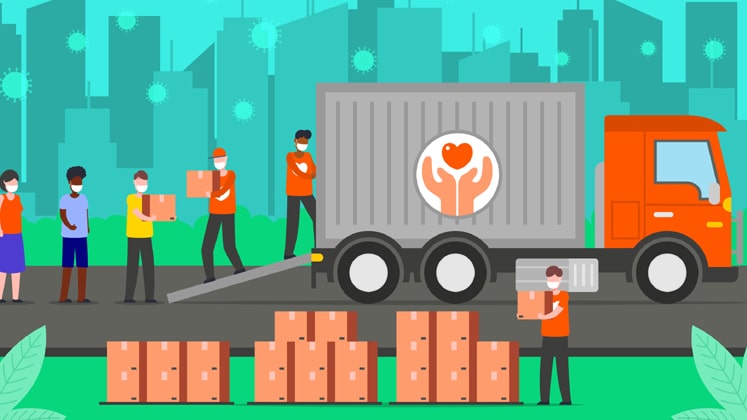 For a fashion retail brand, the first and foremost thing on the list is always positioning it at the top as a fashion leader in the hearts and minds of consumers. But what these retail brands have been shrugging under the carpet for years has now become one of the many priorities for them and that is – their corporate social responsibility or CSR campaigns. While CSR made up a distant department for long, today what represent the totality of an organisation's work are its products & services, employees, innovations, responsibility to stakeholders and communications, and its corporate social responsibility initiatives. And it only makes sense with fashion industry being the second largest polluter of the environment to give back to the country, to the environment and to the people.
CSR strategies play a major role in the apparel retail industry. Even consumers today are more than ever insisting that their favourite brands become more CSR aware and proactive. Also, stakeholders are more attracted to brands that make corporate social responsibility a priority. According to the Forum for Sustainable and Responsible Investment, companies that had various CSR activities witnessed an increase in their assets from around US $ 1 trillion in 1997 to nearly US $ 7 trillion today.
Fighting the pandemic together
Right now, with the outbreak of coronavirus, the Government of India has issued a notification stating that CSR funds by companies can be spent for all the activities related to COVID-19, specifically in healthcare, eradicating poverty and malnutrition or sanitisation as well as for disaster management which includes relief and rehabilitation. While the Government is doing its bit, apparel retail brands all over the world are announcing support measures, like cash donations to the Governments, distributing masks, PPE, etc. Barun Prabhakar, Marketing Head, Liberty Shoes, maintains "While CSR has the humongous potential to club the business goals and social responsibility into one unit, 2020 gave a new meaning to this definition. No economic sector is untouched by the effects of COVID-19, but these challenges and opportunities are putting a human face to the corporate institutions. Strong CSR policies will help shaping the future of the organisation, and we are focusing on keeping these CSR values intact to our core culture right now. As the situation unfolds over the next few weeks, we hope that the situation finds a balance between keeping their operations running efficiently and productively and catering to the specific needs of their employees during this outbreak."
Reliance Industries has made a contribution of Rs. 5 crore to Maharashtra CM relief fund besides opening country's first 100-bedded hospital dedicated to the treatment of patients infected by coronavirus in Mumbai.  ITC Ltd. too announced that it is setting up a contingency fund of Rs. 150 crore for vulnerable sections of society during the pandemic, in order to assist the district health and rural healthcare ecosystem that reaches out to the weakest sections of society.
Sportswear brand adidas too ran its #HOMETEAMHERO Challenge – a virtual sporting event for the world's athletes to unite and help make a difference by dedicating their workouts for good. The brand donated US $ 1 to the COVID-19 solidarity Response Fund for the World Health Organisation, for every hour of tracked activity. The challenge was enabled by the collaboration between multiple activity tracking apps, including Garmin, Zwift, Polar, Suunto, JoyRun and adidas' own suite of performance platforms – adidas Running and adidas Training – which housed an extended selection of Guided Workouts led by top athletes such as Cricketer Rohit Sharma, Track Sprinter Hima Das and Boxers Nikhat Zareen and Simranjit Kaur.
Nike too has committed more than US $ 17 million to COVID-19 response efforts including an additional US $ 1.6 million donation to help local organisations meet immediate needs such as food and medical care in key cities and communities around the world. Nike has already generously donated to organisations like Oregon Food Bank, Oregon Community Foundation and Oregon Health & Science University.
The most recent in this has been Japanese LifeWear brand Uniqlo. The brand's parent company, Fast Retailing has donated over 2,00,000 masks for frontline workers and high priority medical facilities. Additionally, Uniqlo India is donating 2,000 units of AIRism innerwear to hospitals and police departments in Delhi-NCR. Through this donation, Uniqlo wishes to meet the frontline workers' need for functional clothing and supplying protective wear as a gesture of gratitude for their work.
Tomohiko Sei, Chief Executive Officer, Uniqlo India, said, "In the fight against COVID-19, doctors, supporting medical staff and police are the heroes at the forefront of combating this pandemic. These frontline heroes are working tirelessly to keep all of us safe and protected. Uniqlo India is honoured to show our appreciation for their tireless and heroic work to keep our community safe, with apparel designed to make their daily life a little more comfortable."
Many start-ups too are going up and above to contribute to the society struggling through the difficult situation resulting in no cash flow, difficulty in paying employees while staying afloat. Nidhi Yadav, Creative Head and Founder, AKS Clothing, avers, "Rather than calling it a CSR strategy, we would prefer to say that we're just extending our help to those who are in dire need of it. As the lockdown was imposed to contain the infection and every business was shut due to the pandemic, there were a lot of people who faced job layoffs, salary cuts and even managing the basic necessities became a challenge for many people. Being in the apparel industry, we thought of doing something good for our labourers and unit workers because we could not bear to see them suffer. For this reason, we decided to manufacture PPE kits for our frontline workers (health and sanitation workers), as it was the easiest to prepare and we could contribute to the society, while also providing financial support to our workers. We started the work after procuring necessary permission from the concerned authorities and supply from SITRA." Indian fashion designers too are slowly regaining their foot in the market, and in the process, are also helping provide jobs to workers. 'Together' is one such initiative started by Karishma Shahani-Khan from her label Ka-Sha in collaboration with Megha Garg of MeghaGarg –The Label and Antar-Agni's Ujjawal Dubey. The initiative focuses on providing jobs to workers by creating masks and donating these masks to the needy.
Besides, retail brands are also working and contributing to safeguard India's rich pool of artisans and craftsmen. "Our entire CSR strategy is based around the physical and financial safety of our craftsmen and skilled labour. We firmly believe that it is our duty to look after their day-to-day expenses during the times of crisis such as this one. To that effect, we launched our Synchronous Gifting campaign to offer our clients gift certificates at reductions to raise capital up front. Several clients contributed to the cause and we were able to distribute that amongst our craftsmen and ensure that they don't feel the need to step outside their homes, therefore ensuring their own safety and the safety of their loved ones," explains Sandeep Gonsalves, Co-Founder, Sarah&Sandeep.